Today we're welcoming author Joyce Harmon to the Ludis! So sit back with your cuppa and enjoy our chat as we talk about Joyce's Winery series and latest
When did you first consider yourself an author?
Oh, always! I was writing Star Trek fanfic (though I didn't know to call it that) in junior high. Back then, there was nothing to do with your stories, though. You just wrote them out in long hand and let your friends read them.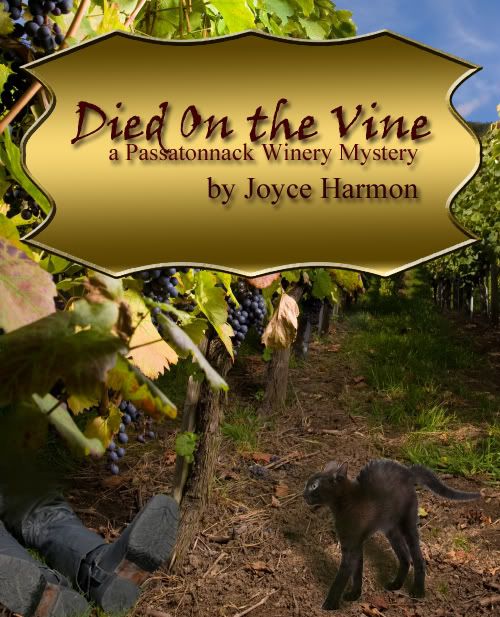 Tell us a bit about your latest work Died on the Vine.
Update! Died On The Vine now has a sequel! Look for the further adventures of Cissy and her friends in Bidding On Death.
But back to Died On The Vine. I actually wrote this book in the mid-90s. I was planning to submit it to publishers and agents. But when I finished the story, it was too short for submissions – mystery publishers wanted works of at least 60,000 words, and Vine was around 45,000. So I needed to make it longer. The other problem was that I had made the story very 'up to date' and in the mid-90s, what was up to date seemed to change every day. Just when I'd updated something, something else changed and had to be updated – it was a moving target. Another difficulty was that I had a Vietnam War backstory, and as time went on, my characters would wind up being too old. Life ensued and the manuscript got filed away.
Then last year, I realized that I'd been calling myself a writer all my life and didn't really have anything out there for people to read, and it was time to get serious. (I'd had a diversion for a number of years writing screenplays, none of which sold of course.) I decided that 2012 was going to be The Year Of The Writer. And with the advent of ebooks, getting published was much more plausible and your story could be any length it needed to be.
At that point, I remembered, hey, I wrote a novel once – and I dug out Died On The Vine, the original manuscript without all my attempts to bring it up to date. I reread it and the stuff that had looked outdated ten years ago now looked (IMO) like quaint period detail. I only had the paper manuscript, since it was written many computers and several word processing softwares ago, so I had to retype the whole thing. But I kept it as it was, set it in 1996, and wrote a present day prologue and epilogue.
I published it via Smashwords and Amazon, and it's available on all the ebook platforms. So far it's doing pretty well, especially on Barnes and Noble.
What inspired your setting of a
Virginia
Winery?
I retired from the Navy in the mid-90s. My first post-retirement job was at the local winery. I took tourists on tours of the winery and conducted wine tastings. It seemed to me that it would be a neat location for a mystery, so I wrote one.
I'm still milking my own experiences for story fodder. After the winery, I worked as a local newspaper reporter, and then I spent a number of years as an eBay seller. I would go to the local auctions and buy things to resell on eBay. I used that experience for my sequel, Bidding On Death, where Cissy and her friends becoming involved in on-line auctions. I set Bidding On Death in 1998.
Did you learn something new about yourself or the craft of writing while working on this story, if so what was it?
I don't know if I actually learned anything new, but I relearned how much I enjoy creating a fictional world and immersing myself in it. My stories always contain humor and I tend to crack myself up.
How would you spend a day inside of your book?
I'd track down Cissy and Julia and see what they were up to – which is usually pretty interesting. Maybe play with Polly the dog and Tough Stuff the cat. And I'd make sure to find time to stop by Della's Kountry Kitchen for some pie.
Do you write every day or when the muse hits?
I try to write every day when I have a story in the works. Some days it's harder to get going than others. When I'm really in the middle of it, I try to keep to a weekly word count goal, though that resolution has been more broken than kept recently.
How do you develop plots and characters? Do you have a set formula?
I don't think I have an actual formula. I usually get a premise first, and then form the characters who'd have to deal with that premise. With my winery mysteries, I now have a set group of characters, though I expect each new mystery will introduce new 'regulars'.
If you could spend time with any writer living or past who would it be and why?
Michio Kaku. I have a bit of a crush on him anyway, and maybe in person he could explain string theory to where I understood it.
Do you have any works in progress you can share with us?
I have premises for several more winery mysteries, but right now I'm trying something different. I'm writing a Regency romance. My mysteries are very breezy and informal, so Regency is quite a change of pace. It's much more formal and mannered. My intent is to write a pure Heyer-style comedy of manners – no sex scenes, no time travel, no vampires or zombies.
After the Regency, I might write the next mystery, but I also have a screenplay I plan to novelize – science fiction action-adventure.
Is there something you would like to say to readers and/or fellow writers?
Just that writing should be fun. I can't give a lot of career advice because I've just recently started putting my work out there, and I have no idea whether or not I'm on the right track to writing success. It's all a crapshoot anyway, so the key is to enjoy the process; that way, if it doesn't lead to fame-n-fortune at least you enjoyed what you were doing. When I see people on writing discussion groups saying resignedly that they supposed they'd better write a young adult paranormal romance because that's what's selling these days, and I know that they don't particularly enjoy young adult or paranormal or romance - ! Sheesh. Write the sort of stuff you'd want to read!
Where can we find Joyce Harmon and your books?
Readers hurry over to Joyce's blog The Village Wordsmith! She is giving a way 10 copies of Died on the Vine so hurry and don't miss out. Next week she will be giving away Bidding on Death!