We welcome author Shelly Frome to the Ludis today. Kirkus Reviews had this to say about Twilight of the Drifter,
"Author Shelly Frome churns out a laudable crime thriller. A novel with impeccable Southern flair as soothing and cool as the notes from the protagonist's blues
harp." So pour a cuppa and enjoy our chat.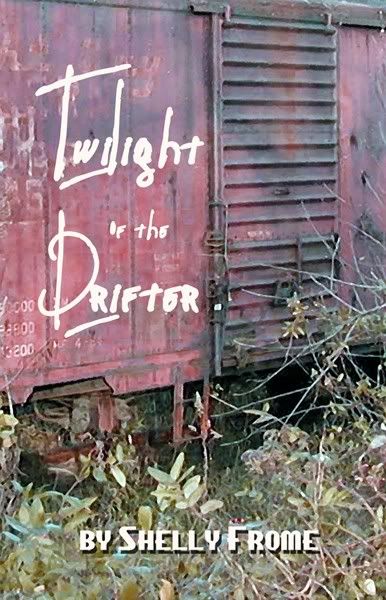 A bit about our guest:
Shelly Frome is a member of Mystery Writers of America, a professor of dramatic arts emeritus at the
University of Connecticut
, a former professional actor, a writer of mysteries, books on theater and film, and articles on the performing arts appearing in a number of periodicals in the
U.S.
and the
U.K.
. He is also a film critic and frequent contributor to writers' blogs. His fiction includes
Tinseltown Riff
,
Lilac Moon,
Sun Dance for Andy Horn
and the trans-Atlantic cozy
The Twinning Murders
.
Among his works of non-fiction are the acclaimed
The Actors Studio
and texts on the art and craft of screenwriting and writing for the stage. His latest novel is
Twilight of the Drifter,
a
southern gothic crime-and-blues odyssey. He lives in
Litchfield, Connecticut
.
Tell us about your latest book Twilight of the Drifter.
Twilight of the Drifter is a crime story with southern gothic overtones. It centers on thirty-something Josh Devlin, a failed journalist who, after a year of wandering, winds up in a Kentucky homeless shelter on a wintry December.
Soon after the opening setup, the crosscurrents go into motion as Josh comes upon a runaway named
Alice
holed up in an abandoned boxcar. Taken with her plight and dejected over his own squandered life, he spirits her back to
Memphis
and his uncle's Blues Hall Café.
From there he tries to get back on his feet while seeking a solution to
Alice
's troubles. As the story unfolds, a Delta bluesman's checkered past comes into play and, inevitably, Josh finds himself on a collision course with a backwoods tracker fixated on the Civil War, the Civil Rights Movement and the bluesman. By extension, Josh is also unwittingly up against the machinations of the governor-elect of
Mississippi
.
In a sense, this tale hinges on the vagaries of chance and human nature. At the same time, some underlying force seems to be seeking closure and long overdue redemption.
Was there a part of this story you found difficult to write?
The only thing that was difficult was allowing the story to unfold while, at the same time, incorporating all the threads. For instance, Roy, the backwoods tracker, often harkens back to the tactics of his Confederate ancestor and his own escapades during the Civil Rights days in
Oxford, Mississippi
while attempting to make sure that long hidden secrets never see the light of day. At the same time, Alice, the runaway, is suffering from temporary amnesia as she goes through her own story arc. And then there is AdaMae,
Alice
's visionary aunt, who worries that
Alice
may be in league with the devil. As things progress, Josh becomes involved with LuAnn, a luncheonette manager who is also concerned about
Alice
's plight when
Alice
takes off again. Not to mention the growing tension between Josh and Dewey the bluesman who becomes increasingly under the gun.
And on and on, it goes.
What inspired the idea for Twilight of the Drifter?
It all started when a friend of ours invited us down to the hill country of
Mississippi
who'd inherited a backwoods cabin and was in the process of fixing it up. At one point, he suggested that he and I take an exploratory walk. Following a narrow overgrown path, soon we became entangled in briars, edged past some barbed wire as the terrain sloped down and eventually came across waterlogged limbs sticking out like menacing pitchforks. At that moment, I turned to him and said, "Bob, do you have any idea where we are?"
He gave me a half-wary half-mischievous look and said, "Shelly, I believe this here is
Wolf
Creek
."
Then and there something began to percolate. That selfsame feeling there were buried secrets here that would never see the light of day.
What drew you to write in the genre crime/mystery novels?
Perhaps the best way to explain it stems from something the renown actress Julie Harris once told me. "In one way or another, the given circumstances have to be a matter of life and death. Otherwise, why go to all the trouble?" Put another way, the journey has to be worth the candle. In the case of
the Drifter
, we're talking about a mysterious calling to right a great wrong.
As a writer who is also a film buff, a movie critic, a professor of film as well as theater, and the author of a book on screenwriting, there's another major factor. As the movie camera takes you anywhere and everywhere, so does the central character. And the places you go have a distinct character of their own affecting everything that happens. And that's at least one reason that writing within the parameters of this genre results in passages my readers find so engrossing and vivid.
Does your experience as an actor bringing characters to life help you to do the same with the characters in your novels?
Absolutely. Every character who appears has a through-line and a stake in the action. Everyone is coming from somewhere, motivated and changes because of who they are and the ongoing give-and-take. It's all a process of becoming. In a wonderful, mysterious way there can be no manipulation on my part because everything would stop until I backed off and allowed people to be true to themselves. In a sense, there's always the question, Who am I? What do I want? What stands in my way? What now, given the way things are going, in view of what I need and what I'm capable of?
And, needless to say, I play every character.
What do you feel are the key elements for a good mystery?
I think there has to be a fascinating dilemma involving three-dimensional characters, intelligent protagonists and antagonists and a provocative setting. Some unfolding journey far beyond the puzzle solving musings of Miss Marple and Hercule Poirot and the one-dimensional stock characters and stick figures they encounter.
What is your favorite crime/mystery television show or movie?
I don't have any favorites. But I'm sure the same guidelines apply to crime shows and movies I'm drawn to like the Inspector Morse series on BBC, old classic movies like The Maltese Falcon and recent films like The Talented Mr. Ripley and Michael Clayton.
What is your writing ritual? Do you write daily, have a word count/page goal, have a certain time of day you write better than others or a certain place that helps you focus?
In one way or another, I seem to be always writing. Once a noted playwright told me that every time he'd ask another noted playwright how his latest was going, the answer would always be, "It's coming along. I'm still working on it." Eventually the answer would be, "Ah, it's finally finished. Now all I have to do is write it down." I simply follow the energy. Perhaps it's polishing a scene and that usually takes place later in the day tapping away on the computer. Research consists of going places, interviewing people and/or experts in their field, looking things up, etc. But given the fact that I'm an incurable storyteller, a lot of daydreaming goes on morning, or night.
Do you have any projects you're working on?
I've just started a new project based on a character who looks a lot like James Dean who unwittingly keeps getting in trouble and is now a person of interest in an untimely death.
What would you like to say to readers and fellow writers?
There seems to be a flood nowadays of self-published e-books and print on demand. Writers and would-be writers who seem to think it's all about cranking stuff out and then spending a great deal of energy on promotion tactics on the Internet. There is a huge difference when the work is the result of a slow simmering process, editorial oversight and more before the novel is ready to be distributed. In other words, there's a question here: How much heart and soul, art and craft went into this final product? There's a question here for both readers and fellow writers to ponder.
Where can we find Shelly Frome and Twilight of the Drifter?