Please join us in welcoming M.S. Spencer to the Ludis. She'll be chatting with us today about her recently released novel and thoughts about how romance writers are perceived. There might even be a secret or two that gets loose! So refill that glass of sweet tea and enjoy our chat. Don't forget to leave some comment love.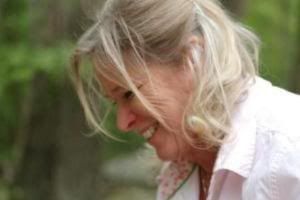 Author M.S. Spencer
What inspired you to begin writing?
Like most writers, I've been writing since I could hold a pencil in my chubby baby fingers. I wrote a full-length murder mystery, which opened to relatively rave preliminary reviews by an agent. Unfortunately, she decided agenting wasn't for her and quit before we got any further. Then a few years ago I was laid up for six months, and one night had a vivid dream. That (and the enforced rest) inspired me to write my first novel,
Lost in His Arms
, published in 2009 (shameless plug: now in print through Amazon :
Are you a fulltime author or do you have a 'day job'? Does it ever play a role in your writing?
I write pretty much full-time. I have a part-time job as Executive Director of the Friends of the
Torpedo
Factory
Art
Center
—giving me access to wonderfully eccentric artists and an office with a view of the
Potomac
and Old Town Alexandria waterfront.
According to your bio at Secret Cravings Publishing, you've lived in many places around the world. Do your experiences abroad affect your stories? How?
Of course. I try to include a visit to Paris (not always successfully) in almost every story. The only problem is I find my memories of some places are not clear enough to use without extensive further research to make the settings precise and accurate. Sometimes, (sigh) this means a repeat trip to some wonderful place.
You have a new novel on the shelves Artful Dodging: the Torpedo Factory Murders. Please tell us a bit about it.
My latest release takes place in Old Town Alexandria, an historic cobble stoned city on the
Potomac River
in
Virginia
. It follows the adventures of several artists at the
Torpedo
Factory
Art
Center
. An old munitions factory on the waterfront, The Center lay abandoned after World War II until the 1970s, when an intrepid band of local ladies convinced the city to lease it to them. Today it houses 82 studios, the Art League, the Friends of the Torpedo Factory, and an Archaeology center.
Released April 24, 2012 by Secret Cravings Publishing
65,000 words; ISBN 978-1-61885-250-2
Romantic Suspense/Murder Mystery; M/F; Heat rating: 2 flames
Blurb:
Waiting out the rain, Milo Everhart takes stock of her widowhood and the handsome man standing in the door to the bar. Little does she know she will meet that man again and again under both passionate and terrifying circumstances.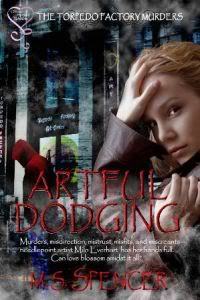 Tristram Brody waits for his date, too conscious of the beautiful woman sitting by the door. Little does he know that she will hate him for trying to destroy her beloved art center, and even suspect him of murder. Nor that she will be drawn inevitably into his arms.
Little does either of them suspect they will be embroiled in not one, but two murders, in which the fate of the Torpedo Factory, an art center housed in an old munitions factory on the waterfront in Old Town Alexandria, will be decided.
What was the hardest part about this story to write?
Because the story mirrors real events (some of which I didn't anticipate), the most difficult part was to disguise real characters and change the course of events to make sure it remained fiction.
Do you have a favorite scene, why is it your favorite? Please share it with us.
Oh definitely, the scene where she finds the body. Or maybe the scene with reporters acting like, well, reporters. Here's a bit of that (there's more but it would reveal too much plot):
The same anchor babe as before—only this time in a slinky knit dress and bright pink lipstick—announced in a voice bordering on hysteria that there were new developments in the Doyle antique robbery.
"Martin, can you tell us what the police said at the press conference today?"
Martin tore off his makeup bib to reveal sartorial resplendence unmatched by any other non-cable correspondent. "Actually, no, Rebecca." He straightened his purple Versace tie and faced the camera with what he obviously thought was a compelling smile. "I'm standing here in front of the warehouse where the police located the first stash of stolen goods. Of course, they were removed yesterday, but I'm still here in hopes of more news.
Anything rather than schlep down to the police station where they held the news conference. For that, we go to my intern Jimmy. Jimmy?"
He didn't really say that. Did he?
Jimmy, a bright-eyed, big-eared young college student, looked about to wet his pants.
"Rebecca! Rebecca! Can you hear me?" He tapped his earpiece, almost knocking the anchor babe off her perch and revealing way too much of a fairly decent pair of legs.
"Yes, Jimmy." She shook her hair out and shot a surreptitious look at the mirror on her desk. "What can you tell us?"
What are three things not many people know about you?
Oh, let's see…One thing: many of my heroines suffer from claustrophobia. That's from me. Oh yeah, and at age 13, I met the Woolworth heiress, Barbara Hutton and had tea in her palace (complete with suit of armor and her portrait as a flapper) in
Tangier, Morocco
. Or this: my Masters thesis in Structural Anthropology dissected the Kebra Nagast, the Book of Kings, which is the national myth of
Ethiopia
. The Ethiopians believe that during the famous visit of the Queen of Sheba to Solomon they conceived a son, who became the first emperor of
Ethiopia
.
What do you feel are the key elements to writing romantic fiction?
In no particular order: 1) maintaining an accurate time line; 2) providing depth to secondary characters as well as primary ones; and 3) adding setting and description that reinforces and undergirds the mood and plot of the story.
Silk or satin sheets?
Neither---they're both too slippery! I borrowed some black silk sheets once and, while I enjoyed the part where I was awake, sleeping was difficult. And no jersey knit either! Nice 500-thread-count Egyptian cotton, that's the ticket.
Do you feel romance writers have a stigma? (good or bad)
Interesting question. When people ask me what I write I usually grin and say "Chick lit." If you give your answer a little fillip of titillation they respond positively. On the other hand, many people still think of romance as the formulaic old Harlequins—I try to explain that it covers many genres now. Romance is the counterpoint to so-called modern fiction. Heroes are heroes, not anti-heroes; the plots contain challenges to be overcome rather than retreated from; and the ending is always happy. Given that, who'd want to read some novel riddled with angst and ennui?
Do you have a new book in the works? Can you tell us about it?
I have 2 WIPs: (1) The Fish Tales: the Mote Marine Murders (working title)—set in Sarasota, Florida, we find our heroine Tessa Diamond dealing with romance, the Russian mafia, smuggling, and sea turtles, not necessarily in that order. (2) "Lapses of Memory: Love in the Air"--a romantic story of two people who meet every few years on an airplane as love (not to mention flight technology) grows.
What would you like to say to fellow readers and writers?
I would be really, really happy if you enjoy my books and recommend them to others.
You can find M.S. Spencer and her books here: