Book Hooks is a new weekly meme hosted by the MFRW Authors Blog. It's a chance each week for authors to hook readers with a few sentences from their current WIP or any preveiously published book.
My 'hook' for this week is a short excerpt from one story, The Rosary, in my flash fiction anthology, Tingle. The story involves a priest who is having trouble sleeping on one hot summer night. what he discovers in the garden during a midnight prayer isn't holy at all. Will a soul be lost or saved in the rectory garden? Here is a bite of The Rosary.
Excerpt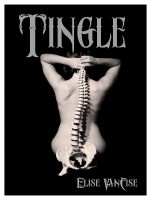 McKenna turned his head to look at her, but his eyes focused on her lips not her eyes. "He has love for you."
She cackled again, the sound dug painfully inside his ears. "Love for me, an unclean beast? You think I still have a soul to save? Perhaps I don't want your salvation."
The edge of her fingernail trailed down his neck. "You have to wait for your rewards in Heaven. I get my rewards when I take them." The nail turned and sliced into his flesh.
He froze caught by fear and her gaze. Her lip curled into a grin that would haunt his dreams for the rest of his days on earth. She pressed a soft kiss to his lips. "My reward tonight shall be you."
McKenna tried to push her away again but he was powerless held in her gaze, one hand at his throat a razor like nail dug at his skin as the other hand fisted in his hair. His mouth opened to scream, protest, cry for help, but nothing uttered forth. Only a groan of pain as she drew back his head and struck the line of soft flesh she exposed.
What to read the whole story of Father McKenna and other flash to send a tingle though your emotions? To grab your copy of Tingle just click one of the links below:
Don't forget to check out the other Book Hooks blogs on the linky below. If you would like to particpate in next weeks Book Hooks just click on the Book Hooks button at the top of this blog and visit the MFRW Authors Blog. What are you waiting for grab a copy of Tingle then get hooked on another great book! :)