What a Hassleback Potato is supposed to look like.
My house is a tater house. We LOVE potatoes, fried, baked, boiled. Smothered in Cheese and sour cream, seasoned and cut or smooshed, or dipped in ketchup. Taters are serious food around here.
My son and I were cruising Pintrest and all the amazing food creations and goodies for something new to attempt. Well of course, he picked out a tater recipe, Hasselback Potatoes
The recipe was pretty simple, pick out your potatoes and slice them thinly but not all the way through. You want them connected at the bottom…. That was our first oopsy it's very hard not to cut all the way through. We ended up with two out of the six we made whole.
Have you ever noticed that story plots are like that? You give your characters instructions on how to get to their ending. Do they listen? No, they take their own path through the plot, sometimes they get lost along the way. You know that's the male main characters, they never stop and ask for directions. *Current MC gives Elise an are-you-talking-bout-me look *
Oh back to our Hasselback Taters… I also had to make a couple substitutes. The recipe calls for white baking potatoes. In my cupboard I only had Rose Gold potatoes so we picked the best of those.
After slicing the potatoes and luckily no fingers we placed them on a baking sheet and drizzled them with olive oil and sprinkled them with Parmesan Cheese and Parsley. The recipe calls for Italian seasoning but… the bottle was empty when I pulled it from the fridge. *taps foot and looks at family… So we substituted with Parsley flakes.
That happens in our novels too. We end up filling plot holes or adding segments and scenes to patch the places that have been cut through or substituting elements or even characters to spice up the plot or whip up the action.
After our fancy cut taters were seasoned they were placed in the preheated oven at 425 degrees to bake for 45 minutes.
That was 45 minutes I had to sit and chat with Dean and Lucinda about their story and where we needed to make some fine chops, add a little more spice or stir up the pot.. I mean plot. I think we managed to rejuvenate the story and get it going forward once more.
Before we knew it the timer was sounding off and our recreated Hassleback potatoes came out of the oven. And what do ya know, they even looked a bit like the fancy recipe picture.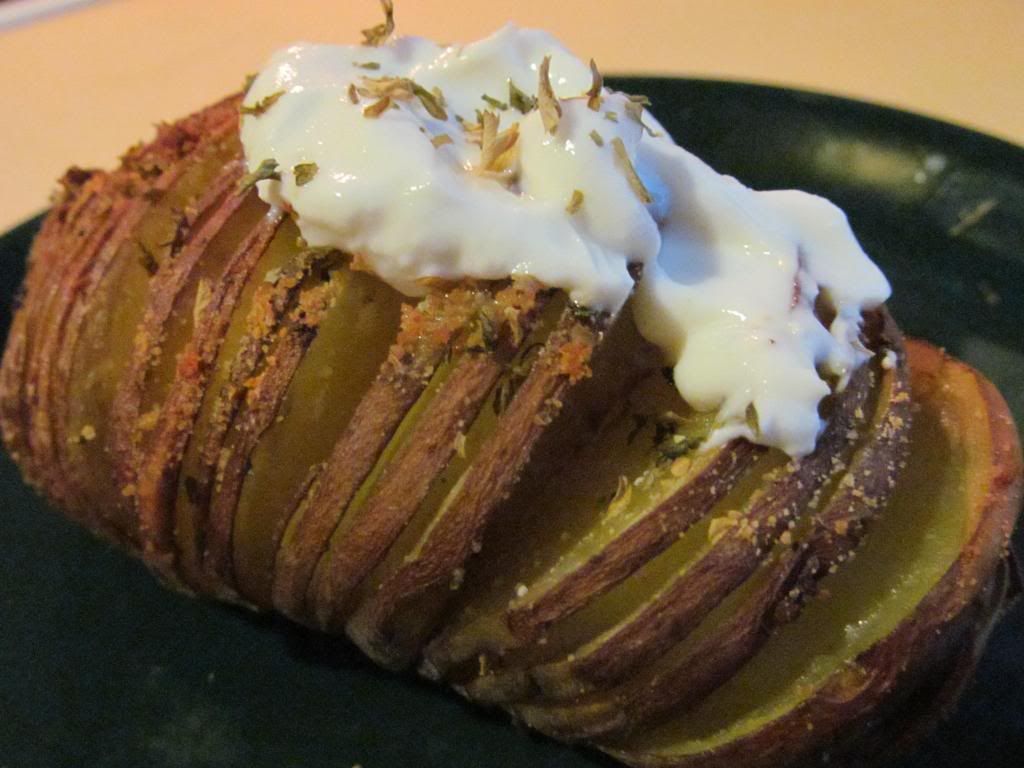 The VanCise version of a Hasselback Potato YUMMY :)
Now that dinner is ready and my novel plot is once again rejuvenated I'm going to sit back and enjoy our Hassleback Taters with sour cream and surf the Coffee Time Romance & More Forums. This is a special week it's Coffee Time's 9th Birthday!
instance on the forums you can take a free class, chat with fellow readers and your favorite authors. Browse the Coffee Time Store for a new sexy read or head over to the new
There's too much awesomeness to mention. You're going to have to go explore it for yourself. Get acquainted and win some prizes at the 9 th Anniversary Party at the Coffee Time chat room Tuesday May 21st at
Now your turn! Have you recreated a Pintrest Recipe? How do you rejuvenate your plot?
Don't forget to make a tater and celebrate 9 wonderful years of Coffee and Romance with Coffee Time Romance & More. Hmm… I think I should look for a cake recipe on Pintrest next.